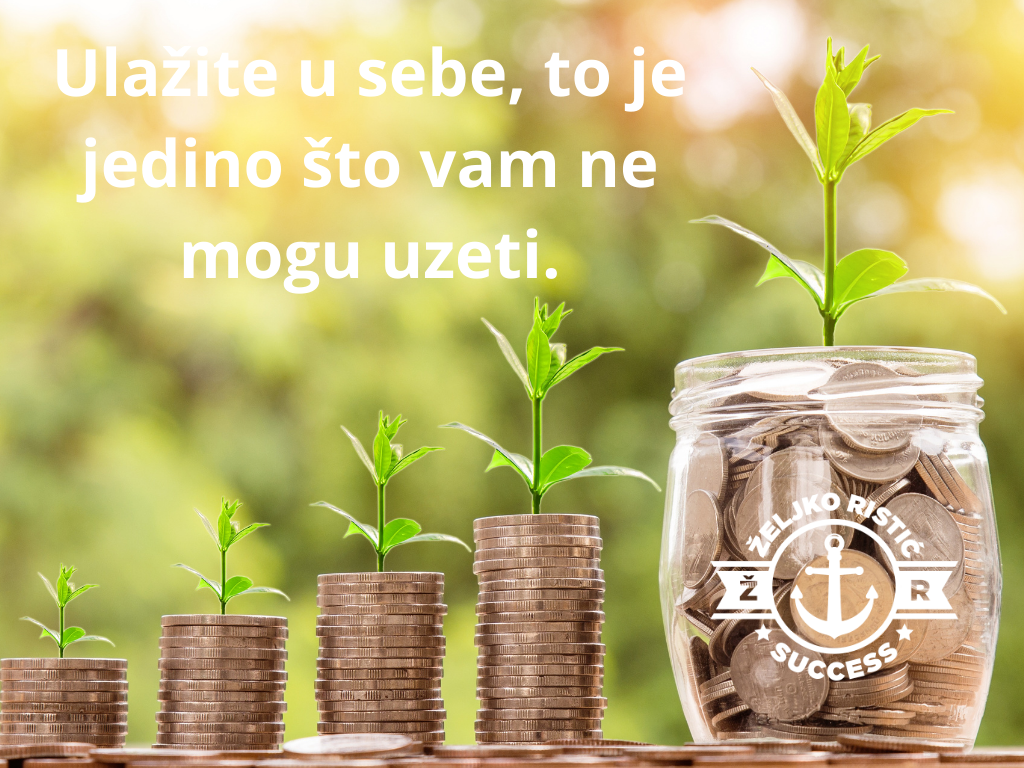 "Čuvaj bele pare za crne dane", "Zrno po zrno pogača" i
tome slično su narodne poslovice koje govore o štednji.
Ben Frenklin je rekao: "Ušteđen dinar je zarađen dinar". Pogrešno! Kada
imamo dinar on je već zarađen. Kada ga stavimo u štednju to je odloženi trošak.
Štednja sama po sebi nije loša, i nemam ništa protiv same štednje, ali samo
ako nije samoj sebi cilj. Opravdavam samo privremenu štednju radi daljeg
ulaganja. Žao mi je ako sam raspršio snove mnogih roditelja koji su mislili o
štednji kao o dobrom poduhvatu za obezbeđenje sigurne starosti i izgradnji
bogatstva, i a taj način učili i savetovali svoju decu. Ali iskreno, to je loš
savet. Raditi i samo štedeti je potpuno pogrešno.
Štednja nije dobar plan za penziju. U suštini, ponavljam, nema ničeg lošeg u
štednji, bolje je svakako nego proćerdati novac u kockarnicama i kladionicama,
ali sama štednja po sebi nije dovoljna.
Evo istine: Oni koji štede u stvari gube svoj novac.
Činjenica je da je kamata na štednju danas toliko mala da je besmislena.
Štednja je svakako najlošije mesto gde možete staviti svoj novac. Da biste
razumeli zašto moramo da se vratimo u 1971 godinu. Američki predsednik Nikson
je tada ukinuo zlatni standard dolaru i učinio ga rezervnom svetskom valutom.
Vi radite naporno, i stavljate na stranu rezultat toga. Taj izdvojeni novac
je vaše znanje, vaš trud, vaš rad, vaše provedeno vreme, uložen novac, dakle
deo vašeg života stavljen da bude utrošen naknadno. Ne kažem da sve treba
potrošiti odmah. Ono što želim da kažem je da treba uložiti umesto samo
štedeti. Novac više ne vredi onoliko koliko je vredeo. Šta vam znači da štedite
novac kad oni mogu da ga štampaju koliko žele?!
Oni koji štede gube novac kroz deprecijaciju. Jer 1000 dinara danas vredi
mnogo manje nego 1000 dinara pre 5 godina, a da ne govorimo pre 10 ili 20
godina. 1994 godine 1000 dinara je vredelo 1000 nemačkih maraka (oko 500
današnjih evra). Danas vrede svega 8 evra.
1994 ste mogli da kupite 1m2 po ceni od 1000 maraka, danas 1000 evra realno
vredi manje nego 1000 maraka 1994 godine. Danas vam treba barem 117.000 dinara
da kupite 1m2 po ceni od 1000 evra. Dakle uz inflaciju, devalvaciju i
deprecijaciju novac ostavljen na stranu gubi svoju vrednost. Za 60.000 dinara
ste mogli da kupite stan 60 m2 po ceni od 1000 maraka za kvadrat. Danas možete
kupiti samo ½ m2 za iste pare.
Šta onda možemo uraditi umesto štednje?
Odgovor je: ULAGATI
Najpametniji vid ulaganja za novac koji ste zaradili je svakako ulagati u
sebe. Ulagati u svoj um, u svoje znanje, u svoje obrazovanje, umeće, veštine…
Dobra stvar je da ono što naučite ne može niko da vam uzme. Mogu vam uzeti
kuću, uništiti biznis, može vam propasti štednja u banci, … ali sve to možete
povratiti ponovo jer ne mogu vam uzeti ZNANJE!
Kao ulagači, investitori, kreiramo novac, puno novca, umesto da ga samo
štedimo. Na taj način umesto da novac postepeno s vremenom gubi svoju vrednost,
on će za nas praviti sve više novca.