Kada je doktor Švajcer primio Nobelovu nagradu za mir u Londonu 1952, reporter ga je pitao: "Doktore, šta nije u redu s čovekom?". Doktor se malo zamislio, i odgovorio: "Čovek jednostavno ne razmišlja".
To je najveći problem čoveka. Ne koristi um koji mu je tvorac dao. Ne razmišlja. Svoje odluke donosi na osnovu tuđih mišljenja, predrasuda, neproverenih informacija, tradicije, straha i mnogobrojnih drugih izvora.
Ljudi veruju da je život oblikovan od strane spoljnih sila i uticaja, okolnosti, i koje im se dešavaju zbog spoljnih sila. I ako ove ljude pitate zašto vi radite? Zašto idete na posao? 19 od 20 ljudi neće imati pojma. Neće znati šta da odgovore. Reći će vam nešto poput: "Svi idu na posao ujutru". I to je razlog zašto oni to rade, jer i drugi to rade.
Zašto vi idete na posao?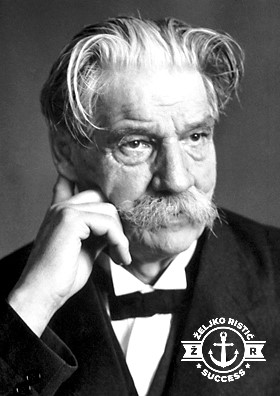 Dr Albert Švajcer Foto: wikimedia