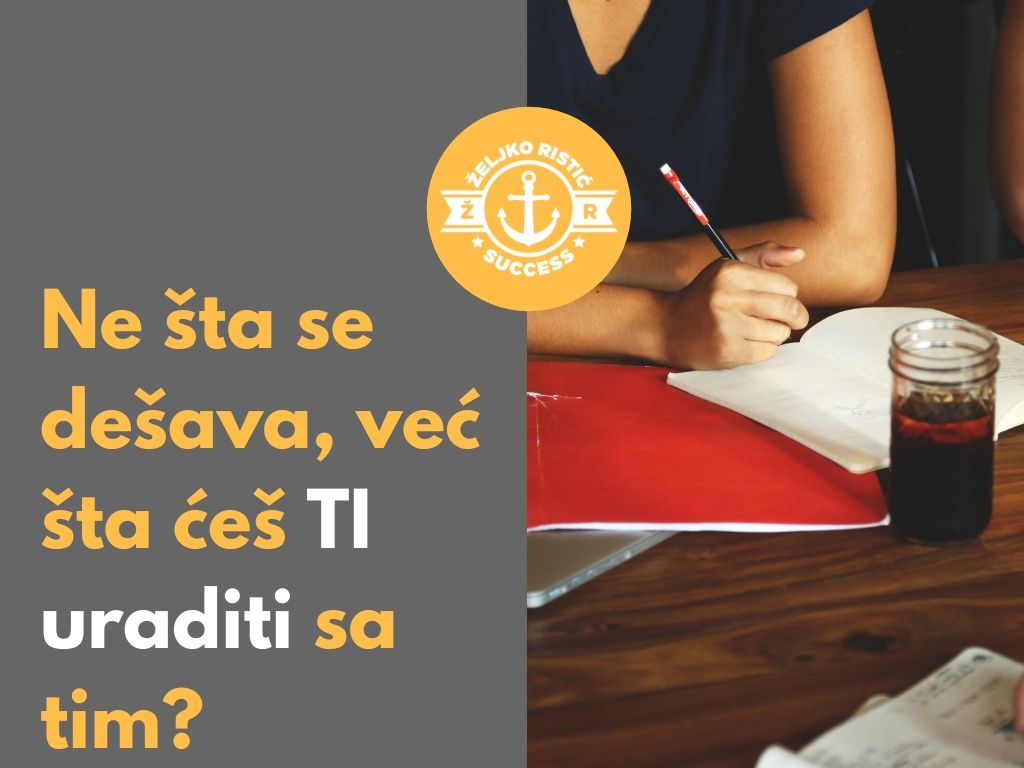 Ko ili šta je krivo za naše neuspehe?
Za svoje nekadašnje neuspehe krivio sam lošu ekonomiju, državu u kojoj sam rođen, rat, političare, socijalno stanje u zemlji, loše porodično nasleđe, i tome slično. Većin ljudi za svoje lične neuspehe krivi okolnosti. Tako su nam krivi članovi porodice, drugari koji su nas zadirkivali, škola, učiteljica koja nas nije volela, profesor koji nas nije voleo i davao nam je lošije ocene nego što zaslužujemo, zmija otrovnica od žene… Za nemogućnost zaposlenja ljudi obično krive lošu političku situaciju, lošu socijalno-ekonomsku situaciju, koja zaista i utiče negativno na ovo pitanje, bez sumnje. Ali to bi bilo kao da krivimo kišu što smo pokisli. Kiša je samo jedna od okolnosti koja nam se dešava u toku života, a mi možemo da izaberemo hoćemo li izaći na ulicu dok pada kiša bez ičega, ili ćemo isplanirati da idemo autom, obučemo kabanicu ili ponesemo kišobran, ili ostanemo u kući dok kiša ne stane ukoliko nam nije neophodno i hitno da izlazimo. Dakle imamo više mogućnosti i opcija, uvek. Dakle kiša pada svima nama. Loša ekonomija je svima, pa neke firme dobro posluju, a neke loše. Neki se teško zapošljavaju, a neki bez problema prelaze sa pozicije na poziciju i to uz povišicu. O čemu se radi?
Pravo pitanje koje treba sebi da postavimo nije šta se dešava. To što se dešava dešava se svima. Pravu revoluciju u svom životu sam postigao promenom ove paradigme i postavljajući sebi sledeće pitanje:
"Šta JA mogu da uradim sa tim što se dešava ?" Ovo menja moju paradigmu. Ovo me oslobađa uloge nezadovoljne žrtve koja samo bespomoćno jadikuje. Ovo me oslobađa tragedije življenja neželjenog života i daje mi moć! Veliku moć. Moć da sam odlučim šta mogu učiniti sa onim što mi se dešava.
Šta je to što možete da uradite sa vašim životima danas, odmah sada i ovde što će vas pomeriti u pravcu realizacije vaših životnih snova?
Nadam se da vam je ova ideja pomogla da shvatite koju moć posedujete i da ćete iz žrtve "okolnosti" izrasti u "spartanca" koji će se boriti za sebe, svoje snove i svoje ciljeve. Jer ako se vi sami ne borite, ko će? Niko neće doći da vas spasi. Ako ne sada, kada? Koliko života imate?
Zajedno do uspeha!!!