NAJVEĆA VARKA JE DA MISLIMO DA JE ŽIVOT DUG, DA IMA VREMENA.
Moram sa vama da podelim razmišljanje o prolaznosti, o značaju naših života, o suštini i svrsi.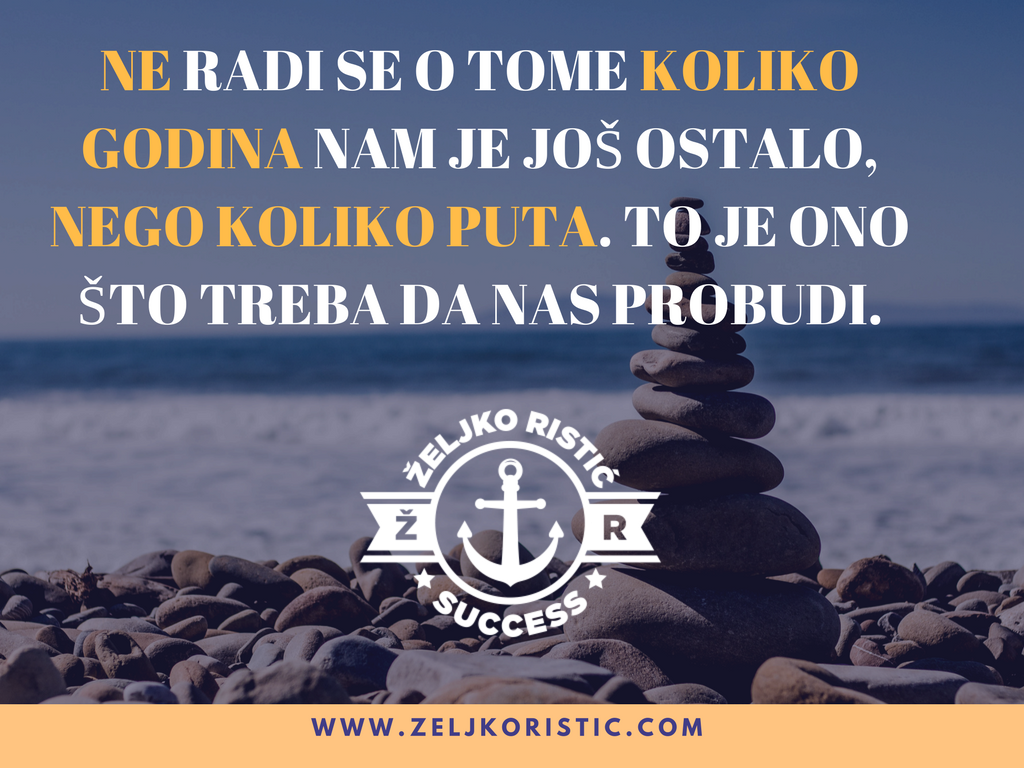 Ne radi se o tome koliko godina nam je ostalo do kraja života, već o tome koliko puta!
Šta ovo praktično znači?
Posmatrajte stvari na ovaj način. Šta je to što najviše volite da radite i za šta živite?
Neko voli da ide na more na letovanje i ide jednom godišnje.
Neko obažava pecanje, ali zbog posla stiže jednom godišnje da ode.
Nekome je centralni događaj priprema krsne slave. I priprema je jednom godišnje.
Dakle, možete stvari posmatrati na sledeći način kako biste se probudili.
Ako pretpostavimo da prosesan život traje oko 70 godina, i da prosečan čitalac ovog bloga ima oko 40 godina,
ostalo mu je još 30 letovanja, ili 30 pecanja, ili još 30 slava, 30 novih godina i gotovo.
I to ako bude tih 30. Ako poživi 70 godina. Ako bude imao finansija da ostvari sve to.
Dakle ima više uslova, ili može biti svega toga još manje. Još 10 letovanja, 10 pecanja i kraj.
Šokantno. Potresno.
Zar ne?! Ali pomaže da se trgnemo i probudimo.
A šta se dešava između ta dva letovanja, između ta dva pecanja, između te dve slave?
Reći ću vam.
Čeka se vikend. Živi se ok vikenda do vikenda. Vreme od ponedeljka do petka su crni prekidi u filmu na mentalnoj slici života onih koji ne vole svoje poslove.
A treba živeti svaki trenutak.
Koje je rešenje?
Kada radiš ono što voliš više nikada ne radiš.
Kako?
Pogledaj klikom na dugme ispod: