Svaka kompanija koja se bavi prodajom poznaje značaj prodajnog levka.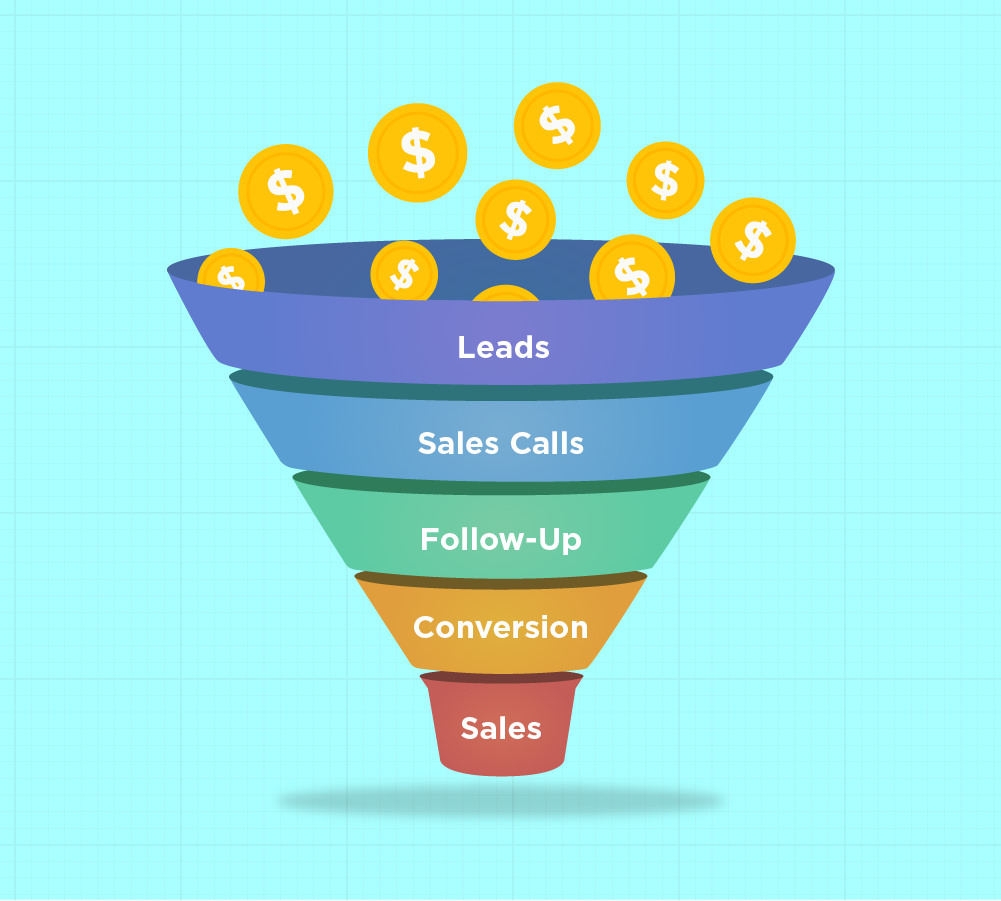 Prodajni levak nam slikovito predstavlja prodajni proces u fazama:
Faza svesnosti – u kojoj potencijalni kupac postaje svestan našeg postojanja ili postojanja mogućeg rešenja za njegovu potrebu, problem ili situaciju. Ovo je takozvani AHA moment, ili momenat signalne lampice, ili sijalice. Ovo je momenat u kojem kupac kaže sebi: "Ovo bi moglo da bude rešenje za mene". I od tada može početi da se interesuje za nas.
Faza interesovanja – ovo je faza u kojoj potencijalni kupac pokazuje interesovanje za proizvod ili uslugu. Kako mi znamo da se kupac interesuje? Jednostavno, on počinje da postavlja pitanja. Počinje da traži detaljnije informacije o proizvodu, usluzi, kompaniji i/ili poslovnim mogućnostima.
Faza evaluacije – u ovoj fazi potencijalni kupac, svestan našeg postojanja, počinje da poredi naše rešenje sa konkurentnim, i da vrši sve ostale procene, na osnovu čega bi mogao da odluči KUPTI ili NE !
Faza odluke – U ovoj fazi, potencijalni kupac je odlučio i kreću pregovori. Ovo je faza u kojoj se može izaći sa cenom i svim ostalim uslovima kupovine, tj prodaje, odnosno saradnje.
Faza kupovine – Ako je u prethodnoj fazi sve proteklo kako treba, poklopile su se sve kockice, tj poklopile su se potrebe kupca sa ponuđenim rešenjem, onda je pala kupovina. Posao je zaključen.
Faza ponovne procene – U ovoj fazi, kupac je već koristio proizvod / uslugu i procenjujući i upoređujući sa prethodnim rešenjima, kao i sa zadovoljenjem potrebe, vrši se procena da li je proizvod zadovoljio potrebu. U koliko je to slučaj dolazi do sledeće faze.
Ponovna kupovina – Pozitivno iskustvo kupca dovešće do ponovne kupovine. Ovo je momenat kada se uspostavlja lojalnost.
Prodajni rezultati u mnogome zavise od samog početka LEVKA. Važno je da prodajni levak na svom početku bude što širi kako bi povećao mogućnosti za prodaju. Kao što smo već naglasili kada smo pričali o značaju internacionalizacije, inostrana tržišta su daleko potentnija i ne samo da nude veći broj potencijalnih kupaca, već se radi o daleko "kvalitetnijim" kupcima.
Kako napraviti što širi prodajni levak i u njemu što više kvalitetnih kupaca, to jest kako doći do što većeg broja kvalitetnih kupaca?