Zar ovo nije šokantno?!
Većina ljudi ode u grob noseći svoju pesmu u sebi!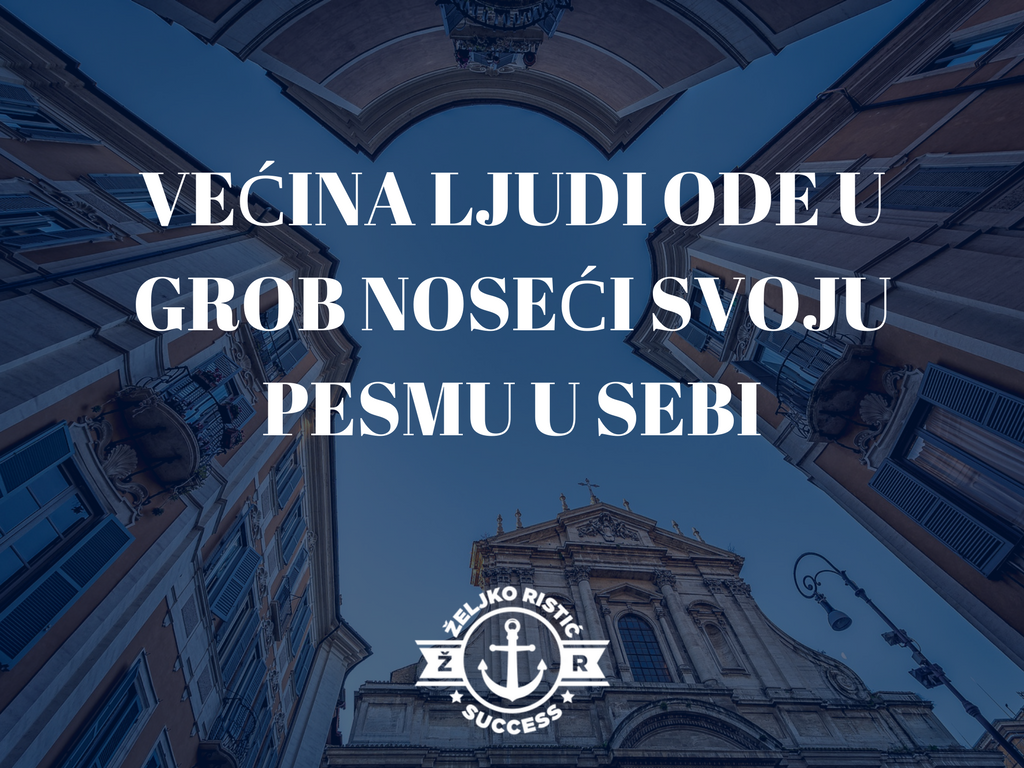 Šta to zapravo znači?
Svako od nas još u ranom detinjstvu počne da mašta i da vidi sebe kao odraslu osobu. To je zapravo fantastično. Tada mi počinjemo naše programiranje. Ovo se dešava na podsvesnom nivou. Dete i ne zna da se upravo programira. Nažalost, naš program napada puno "virusa" u vidu tuđih mišljenja. Roditelji, komšije, rodbina, škola. Svi oni ovim malim glavicama šalju svoja mišljenja i mladi softver počinje da "baguje". Mali um počinje da menja prvobitnu sliku perfektne budućnosti koju je isprojektovao sebi. Mali Marko s početka knjige je maštao da postane veliki naučnik jer je imao fantastične ideje koje su mu stalno dolazile na pamet. Ali svi su mu rekli da pusti to i da se neće najesti hleba. Šta su ovi "virusi" uradili malom umu? Usadili su mu strah od siromaštva ako pokuša da se bavi svojim poslom iz snova. Kakav apsurd! Kakva šteta!
Tvorac je imao plan za svakog od nas mnogo pre nego što nas je i stvorio. Ljudi iz našeg okruženja nemaju plan ni za sebe, ali uvek imaju plan za druge. Mali um se mogao spasiti ovih negativnih uticaja "virusa" da je imao "antivirus program" u vidu roditelja ili mentora. Ponekada mali umovi imaju jako dobar "firewall" i uspeju da se odbrane od "virusa" i "malware" sasvim sami. Taj udeo se meri, nažalost, promilima. Znači da svaki hiljaditi malac se odbrani, ostali podlegnu nasilnom uticaju sredine. Ali kada je greška već napravljena, moramo da se reprogramiramo. I to upravo i radimo.
Dakle, tvorac je imao plan za Marka da bude naučnik. Zato mu je stalno i slao poruke u vidu misli, jer je ovo način na koji tvorac komunicira s nama. Marko je, nasuprot ovim porukama, podlegao uticaju sredine i postao advokat. Sada dane provodi u učmaloj kancelariji i sudnicama, potpuno utučen i apatičan. Vuče se na posao, vuče se s posla kući. Nema u njemu nimalo radosti. Živeo je dugo, ali nije živeo srećno. Na samrti se setio svih svojih planova koje je imao u vezi sa izgradnjom Teslinog tornja u svom rodnom gradu i primene nekih njegovih patenata i ideja. Osetio je neverovatnu žal za propuštenom šansom da živi život onako kako je želeo. Umro je s gorčinom u duši i suzama u očima, i sa pesmom na srcu koju je jedino on sâm čuo u svom srcu. Nije imao hrabrosti da bude ono što je želeo. Protraćio je život onako kako su drugi želeli.