Da li se se radujete i čekate da dođe kraj radnog dana, da dođe petak, da dođe odmor … to znači da nemate budućnost. Imate nestabilnu sadašnjost. Da li čujete rezak zvuk? To vam puca led pod nogama. Jer ako ne radite ono što volite svim srcem, samo traćite vreme. Svako ima nešto što voli, i činjenica da baš to volite verovatno znači da ste za to i nadareni. Donesite odluku da budete u prvih 10%. Svako ko je u prvih 10%, počeo je od poslednjih 10%, sa dna. Svako ko radi dobro sada, jednom je radio loše. Svako ko je danas na vrhu u vašem polju, jednom nije uopšte ni bio u tom polju. Znači, ako želite da platite cenu, da radite naporno, da se žrtvujete, bićete u prvih 10%. Koliko to traje. Da biste postali vrhunski stručnjak u polju, potrebno je 5-7 godina.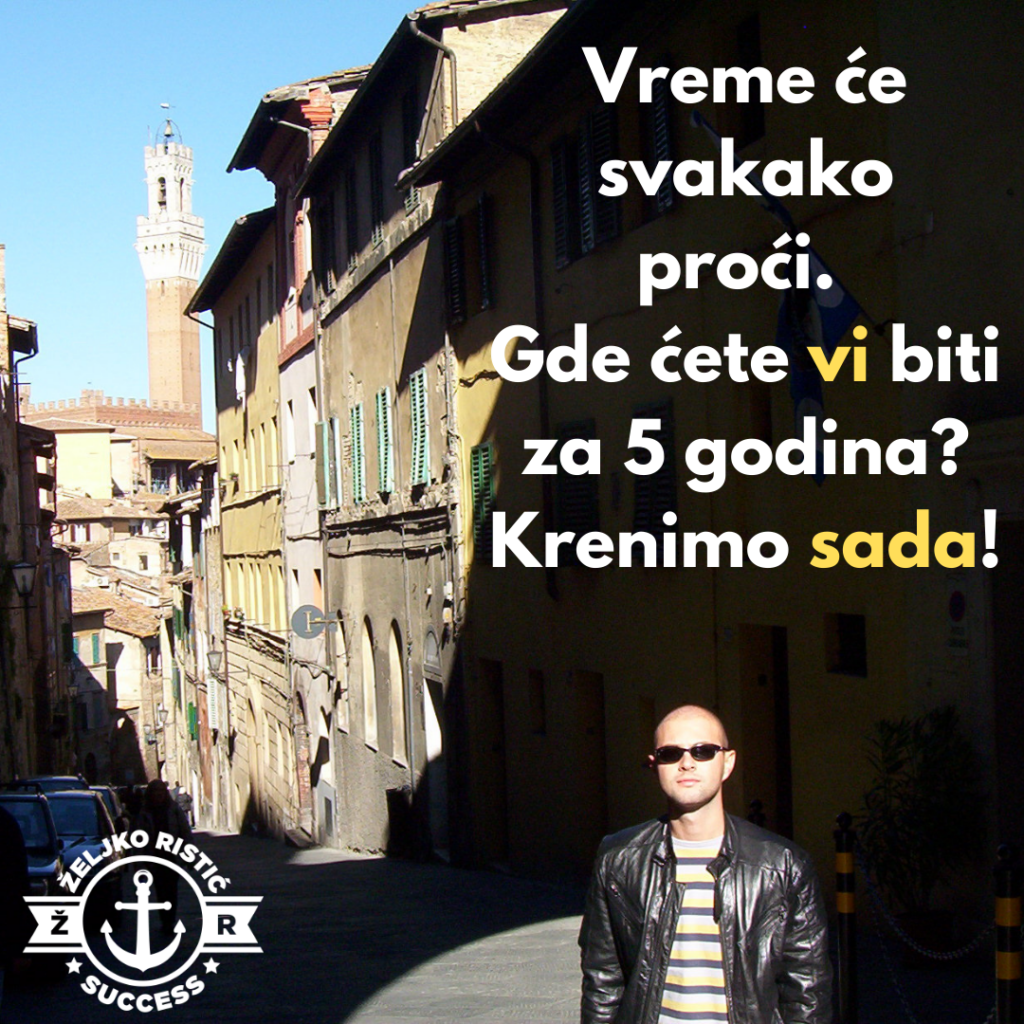 Vreme će svakako proći. Jedino pitanje hoćete li tada biti na vrhu ili ćete i dalje biti na dnu. Niko nije bolji od vas, niko nije pametniji od vas. Ako je neko na vrhu, znači da i vi možete biti na vrhu. Samo proučite kako su dospeli do tamo. Jer i oni su počeli sa dna. Za neke je potrebno više, za druge manje vremena. Svaki onaj koji stavi nogu pred nogu i nastavi da se kreče, sigurno i stiže. I onda nagrade pristižu. Kada se zaista dobri u onome što radite, život postaje divan. Svi vas cene i poštuju. Možete da napišete koliko koštate, da otvorite bilo koja vrata. Ponavljam: Vreme će svakako proći. Jedino pitanje hoćete li tada biti u vrhu ili ćete i dalje bit ina dnu. Hoćemo li da krenemo?
Knjiga "Kako dobiti POSAO iz SNOVA" dramatično i nepovratno će ti promeniti život.
Sada uz popust na akcijsku cenu knjigu možeš poručiti za samo 792 RSDhttps://zeljkoristic.com/sr/porudzbenica/