Hteli mi to da priznamo ili ne, bili toga svesni ili ne, živimo iz dana u dan po određenim ustaljenim šablonima.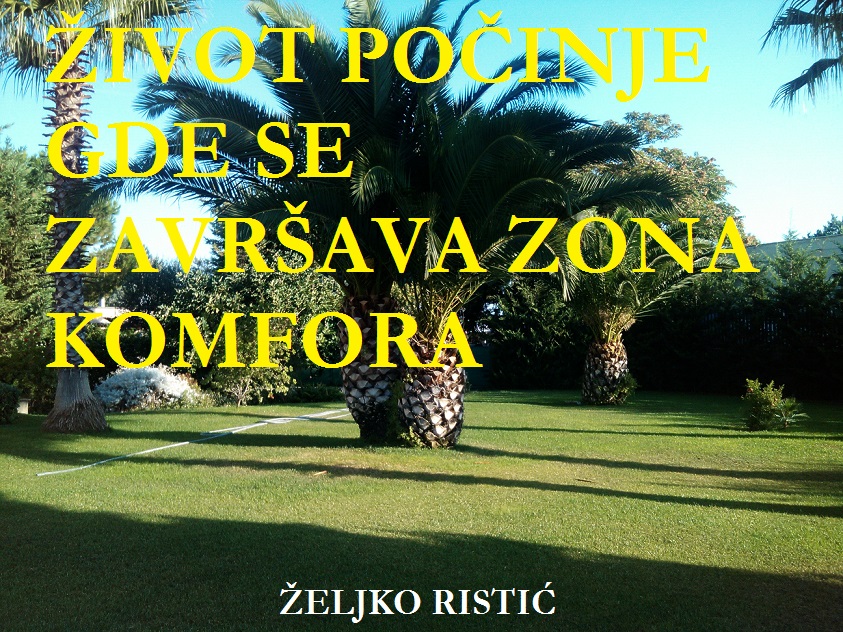 Imamo iste navike kada ustanemo, dorućak, kafa, neko cigara. Ista putanja kada idemo na posao, ista kada se vraćamo. Iste navike na poslu. Stvari radimo na isti način. Odluke donosimo na isti način. Mnoge stvari smo usvojili od sredine a mnoge smo i sami stekli. Dakle, naši životi se odvijaju prema određenim matricama, a da najveći broj ljudi uopšte nije ni svestan toga. I kada i pomislimo da bismo mogli nešto drugačije ili nešto novo, neka nevidljiva sila nas vuče nazad. Počinjemo da nalazimo opravdanja zašto ne bi trebalo da počnemo sa novim poslom, zašto ne bi trebalo da pokrenemo novi biznis, kupimo novu kuću, upišemo master studije, angažujemo mentora koji će nam pomoći da napravimo promene na bolje u životu. Jednostavno mnogo nam je lakše tako kako nam je. Tu smo sigurni, makar i ne bili srećni i zadovoljni. Lakše je da se nađu neki izgovori, da se okrive drugi, da se kaže "Lako je njima jer oni …" i da se nađe opravdanje za tuđ uspeh i za sopstveni neuspeh.
Ta zona u kojoj smo sigurni, u kojoj smo ušuškani. Zona po kojoj se krećemo svakog dana i izvan koje prosečni ljudi ne izlaze, to je zona komfora. Jedan od glavnih kočničara ličnog napretka.
Izvan zone komfora počinje pravi život.
Želiš da se pokreneš i izađeš iz svoje zone komfora?
Pružam ti ruku! Javi se!
Ako ti se sviđa, lajkuj i podeli!