Radeći u mnogobrojnim kompanijama, ali i vodeći sopstveni biznis, susretao sam se sa sledećim situacijama koje opisuju neadekvatnost prijave za posao. Ljudi su uglavnom čuli za CV, ali verujte da postoje oni koji nisu nikada čuli za CV, ili eventualno ako su čuli, nikada nisu imali prilike da vide kako izgleda i kako se piše.
Situacija broj 1:
Dešavalo se da se osoba pojavi na vratima firme i kaže sekretarici da želi posao. Kada me pozovu da vidim o čemu se radi, osoba ima sledeći nastup:
"Dobar dan! Treba mi pos'o."
Na pitanje kakav posao joj treba, odgovara bilo kakav, sve će da radi, ne pravi pitanje.
Menadžeri u firmama nemaju vremena da razgovaraju sa svakim aplikantom pojedinačno, a i kada bi imali, ovi ne bi imali šta da ponude.
Vidite, ovakvim pristupom, aplikant je ostavio najgori mogući prvi utisak, i tu više nema popravnog ispita.
Ne postoji druga prilika za prvi utisak.
Na osnovu čega osoba može da veruje da će je firma pozvati? Šta ona nudi firmi u zamenu za platu i ostale beneficije koje iz plate proizilaze? Koji stav je imala kada se pojavila? Ima stav koji odgovara onim poslodavcima koji vole da iskoriste radnike. I kada im se to desi, onda ovakvi radnici krive druge, a sami su na početku bukvalno rekli: Radiću sve. Oni misle to će važiti samo dok ne uđu u firmu, a posle će oni već da traže svoja prava. Važan je način kako ste ušli, kako ste primljeni.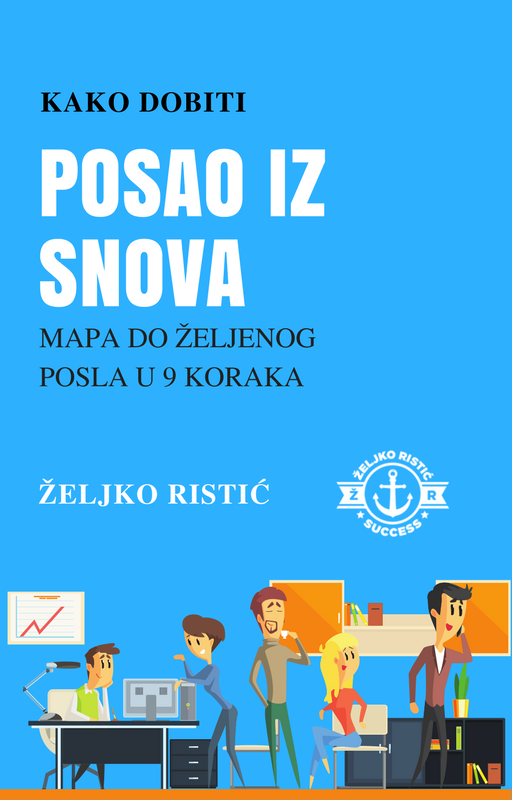 PPROMO CENA 600 din u vrlo kratkom promotivnom periodu.
Poruči